AEB's Line Management System (LMS) uses a series of cameras and sensors strategically placed in a facility to measure and report back, in real time, analytical solutions for people counting and line management, reducing wait times and improving security.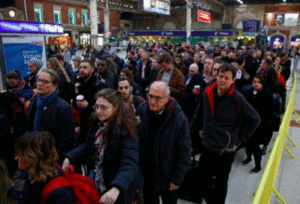 Our solution will detect over 99% of all people. Our counting technology is precise and detects almost all people in line, not just random samples.
We can utilize existing cameras to minimize costs or install new ones; whatever is your preference!
AEB's Line Management System is "Non-Intrusive", meaning it does not connect to any device without permission.
With LMS, users can watch live video anytime, including during high traffic (rush hour) times or be used for line capacity overflow to visually confirm events.
LMS will calculate real-time, precise and reliable wait times, which can be displayed at various measurement points or an app. Shorter wait times will increase revenue and reduce congestion and other security risks, as well as dramatically improve the customer experience. Wait time data can be analyzed to predict future behaviors and assist you in better understanding your facility for future planning.
Line Management Systems are ideal for airports, sporting and entertainment venues, movie theaters, hotels, hospitals, bus and train stations, restaurants or any place that has alot of foot traffic.